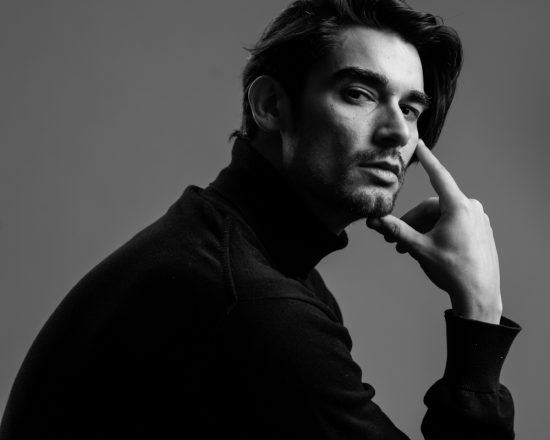 Editor's Note: This is one of a series of articles this week featuring black and white photography tips. Look for earlier ones below and more daily over the next week.
Black and white images often need higher contrast to work than color images. Don't be afraid to push the Lightroom sliders around to see what works best. See what happens when I convert this color portrait to black and white.
Increasing contrast makes the portrait stronger. A subtle touch is often best. See the result below:
Enhance the effect by starting with a dark or black background. In the studio, a dark wall or roll of dark gray or black seamless paper provides the perfect backdrop against which to set your low-key scene. If you're not in a studio, choose a space that's large enough to put some distance between the subject and background so any falloff from the key light has dropped to nearly nothing by the time it reaches the background. Underexposing the ambient light in a large room works very well for low-key lighting when a black backdrop can't be had (more on that in a moment).
Low-key lighting can emphasize the contours and shapes of your subject, while drawing the eye to the image more effectively than high-key lighting.
Adding a fill light to the scene evens out both the shadows and the skin tones.
Why would you choose to create black and white photographs in the era of digital cameras that are capable of accurately capturing millions upon millions of colors? Black and white photography seems to be a constant in the history of the medium, with color technology only propagating itself into wide use around halfway between Nicéphore Niépce's first heliograph and today.
Black and white is a form of simplification because it removes color from the scene. Keep the theme of simplicity going when it comes to composition and lighting.
This can be a difficult concept to understand without seeing it, so I have included an example of a color version of one the images above. Ask yourself: How did your perception of the photos change? What did you notice first in each of the images? Do you feel differently or think differently of it when you view it in color than in black and white?
There's a black-and-white-specific advantage when it comes to dodging and burning a low-key image, too. Using the individual color sliders that adjust the black and white mix, whether that's in Lightroom's Develop Module or Photoshop's Black and White Adjustment Layers, it's easy to brighten or darken specific areas of an image that correlate directly to the original colors in a scene. Blonde hair, for instance, can be lightened or darkened easily with the yellow luminance slider, even though the image is now grayscale.
If you're new to black and white photography, do remember that these are guides and not rules. If you need to stray from them to get the result you're after, do so without hesitation.
I set Clarity to +65 on the portrait below. This brought out the beautiful textures in the model's beard and shirt. It emphasized the texture in his skin as well, but you can often get away with this in black and white portraits of men.
If your camera has an electronic viewfinder (like a mirrorless camera) it will display the scene in black and white before you even take the image, making it even easier to see if the composition is working.
In the portrait below, the model's smooth skin contrasts with the rough texture of the concrete wall she is leaning against.
It's all about personal preference here. If you're not sure what yours is, try finding the first ten black and white portraits that stand out to you the most and see if you can deconstruct them in terms of lighting.
Sign up to the weekly DPS NEWSLETTER Subscribe All our best articles for the week Fun photographic challenges Special offers and discounts
Black and white is a powerful and expressive medium for portraiture. The absence of color seems to allow us to see deeper into the soul and reveals the model's character. Black and white portraits often have a timeless quality that adds to the expressiveness of the portrait. But working in black and white is challenging because you have to learn to see in what's essentially a new medium.
If you're working on an image that you feel isn't up to scratch and you ask yourself if it will work in black and white, the answer is probably no. A black and white treatment will often emphasize the flaws that made you question the image in the first place, and a bad photo is a bad photo regardless of its color scheme or lack thereof.
Want to sharpen your lighting skills? Our guide to Portrait Lighting Essentials provides instructions on the must-know basic lighting techniques, and provides tips for making a memorable image.
In a lot of commercial portraiture these days, there's an emphasis on high-production values. Whether from exotic locations or from using a lot of lights, it seems the conventional wisdom is generally "more is better.
" But, in fact, when trying to create a moody, dramatic or intimate black-and-white portrait, sometimes less actually is more. With a simple setup, using strobe lights or constant sources, in a studio or even on location, photographers can create beautiful, low-key black-and-white portraits that prove minimal lighting can deliver a maximum effect.
Because low-key lighting, by definition, requires deep shadows and a plethora of dark tones, too many lights actually can be a liability. For most low-key lighting setups, a single source is all that's needed. You can do a lot with just one light.
Like the eyes, other facial features become more prominent in a black and white portrait. You can use this to your advantage by conveying emotion in your images. Even tiny changes in your subject's expression can make a difference. Things like a raised eyebrow, a twitch at the corner of a mouth, and smile lines under the eyes can all be used to great effect.
© 2006 – 2018 Digital Photography School, All Rights Reserved / Disclaimer
Move beyond Lightroom by using a plug-in like Silver Efex Pro 2 to create black and white conversions that aren't possible in Lightroom alone. Plug-ins often have features that Lightroom lacks.
Let's be clear on some definitions, first. What is low-key lighting? Unlike high-key lighting—which creates a scene that's very bright and low contrast—low-key lighting is darker and higher contrast. Low-key lighting features prominent shadows and many near-black tones, with minimal midtones and highlights serving as poignant counterpoint to all that darkness. And it works very well in black-and-white.
The best black and white portraits are created in two stages – first when you take the photo and secondly when you develop them in Lightroom. Follow the simple principles in this article and build a good rapport with your model and you'll be rewarded with timeless, powerful black and white portraits.
If you'd like to consider adding lights, you can. Just keep them behind the subject so they create edge lighting, and use a frontal fill for detail illumination, as needed. This technique is popular in edgy sports portraiture in recent years. The edge lights really define the shape of a muscular body, and the frontal fill adds the polish to this lighting approach. Without that frontal fill, the shot can still work—it just becomes a graphic, almost abstract outline of the human form.
Texture is also important when shooting in black and white. If your model has smooth skin, you might like to place her against a rough background to emphasize the difference in texture. You should also pay attention to the textures in your model's clothing.
All of the photos you see in this article were taken in natural light, sometimes with the assistance of a reflector. The more complex your lighting, the more your attention will be diverted from your model.
There's a lot of debate on both sides of the argument, but for me and many others it's a simple matter of aesthetics. A good black and white treatment has a way of stripping unneeded information from an image, helping you to emphasize specific elements to your viewer without the distractions color can provide.
For many photographers, black and white is more than a creative choice at the post-production stage; it's a mindset. If you can start the creation of an image knowing that you intend it to be black and white, you can take steps to ensure that all of the elements of a good monochrome image are in place before you press the shutter. Things like contrast in tonality, contrast in lighting, and appropriate expressions from your subjects are all elements that are difficult, if not impossible, to fix after an image is taken.
Sign up to the weekly DPS NEWSLETTER Subscribe Guaranteed for 2 full months Pay by PayPal or Credit Card Instant Digital Download
If you're going to create high contrast black and white photos, the best advice is to add it with light, not in Photoshop. Small global adjustments are okay and won't hurt your images, but definitely do not crank the contrast slider to 100. Try to limit it between +15/-15. For local adjustments, use a dodging and burning technique of your choice. The key point in this, and all post-production, is subtlety.
Don't forget that you can apply Clarity as a local adjustment. In the next portrait, I used the Adjustment Brush with the Soften Skin preset (Clarity -34, Sharpness +9) to smooth out the texture in the model's skin. The screenshot on the left shows the area covered by the mask.
In the studio, creating a one-light low-key portrait can be done with either strobes or constant lights such as LED panels, compact fluorescents or even HMIs and tungsten hot lights. Whatever equipment you choose, it's important to be able to move the light away from the camera. So if you're using a hot-shoe speedlight, invest in the necessary accessories, such as a stand and remote trigger, to be able to move the light around the subject and away from the camera (more on placement in a moment).
About dPS Write for dPS Advertise on dPS Affiliate Program Privacy Policy
Without a fill light, the shadows on the subject's face facing the camera are very strong and create a highly dramatic look.
Another refinement for low-key black-and-white images is toning. Because low-key images can easily come off as too stark, a bit of toning or split-toning can really add some dimension. Simply use Lightroom's Split Toning controls to add a hint of warmth in the highlight (by first selecting the appropriate yellow or beige tone, then using the Saturation slider to increase its appearance) and balancing it with subtle blue or purple tones in the shadows. Failing that, consider using a Photoshop Adjustment Layer with the Filter adjustment dialed in to exactly where you need it. The Warming Filter is a personal favorite.
Keep backgrounds as uncluttered as possible. Don't be afraid to move in close and use a wide aperture to throw the background out of focus. Simplifying the composition removes distractions, emphasizing your model.
5. Use a plug-in like Silver Efex Pro 2 to take your portraits further
When it comes to lighting a black and white portrait image, there are no hard and fast rules. If you like high contrast images with hard gradations in tone, then choose a harder source of light. If you like soft tones and subtler images, then you want a softer light source.
Hopefully, you can see that even though bold colors can make for vivid imagery, their absence can as well.
DPS offers a free weekly newsletter with:  1. new photography tutorials and tips 2. latest photography assignments 3. photo competitions and prizes Enter your email below to subscribe.
These effects can be achieved in Photoshop, as well. You'll likely find that Adjustment Layers are the perfect tool to add selective brightness and darkness to an image to polish it off. If you have dark areas that need to be darker, you can always use Photoshop's Paintbrush tool to paint away unwanted details in the darkest shadows.
If you can diffuse the source, that's even better. True, a bare-bulb, specular light definitely will make for some dark dramatic shadows, but until you're skilled at illuminating faces with a hard light source, I recommend starting with some diffusion. If you insist on working with slightly harder light, consider a beauty dish, which is a great compromise between specular "pop" and beautiful diffusion.
Lastly, clean up any skin texture produced by the raking light position. The Frequency Separation approach is a great way to isolate texture from tonal values, or just use the Clone stamp and Spot Healing brush to eliminate the most egregious bumps and wrinkles.
With an image that was too bright at the time of exposure, drag the Exposure sliders down to darken the overall look of the scene, then grab and hold the sliders corresponding to whites and highlights and drag them to the right.
Sometimes not only is a studio unavailable, anything indoors is unavailable. But low-key lighting can still be created. Even on a sunny day, you can use a strobe to overpower the sunlight and make the background fall to black. To do this, increase the shutter speed to the maximum sync speed. This is often a shutter speed of 1/250th. Then set the ISO as low as possible (100 or 50, ideally) and set the aperture to the smallest opening (ƒ/22 or ƒ/32, depending on your lens). Take a picture with these settings and check how underexposed the scene is. If you're able to shoot at 1/250th at ƒ/32 and ISO 50, even on a bright, sunny day, you're going to create a photograph that's at least four stops underexposed. There still may be some visual information evident if it's really bright out, but on an overcast day or any other situation where the light is low, the ambience should be very dark, maybe even pure black. Then you can add your strobe—placed close to the subject—and dial up its output to match the camera settings and create the appropriate illumination for the subject. This "day for night" effect can make practically any location look like a darkened studio.
Sharpen Your Lighting Skills With Our Portrait Lighting Essentials tutorial
A small softbox, an umbrella or even a light bounced off a white reflector can create just enough diffusion without scattering the light all around the room. Too much spill on the subject's body or background will ruin the low-key effect. To fight this, use carefully placed flags. Not only can they prevent spill, they will help to stop lens flare when the light is placed beyond 90 degrees from the camera axis. And that's often the ideal place for low-key lighting.
Once you have made the portrait then you need to reveal its full potential in post-processing. There are lots of techniques that you can use in Lightroom, but I'd like to concentrate on two main areas.
Tonal contrast is the difference in brightness between the different areas of the photo.
Tips for Culling Your Photos – How to Throw Away the Worst and Concentrate on the Winners
I kept the composition of this portrait simple by using a short telephoto lens (85mm) and a wide aperture to blur the background (f/1.8). I also darkened the background in Lightroom to focus attention on the model.
You need to ignore colors and see the scene in terms of highlights and shadows. An easy way to do this is to switch your camera to shoot in monochrome mode. Make sure you have image quality set to RAW in case you ever decide to develop a color version of the portrait (RAW files retain the color information).
One caveat when it comes to light placement: A light like this can create a raking effect across the subject's face. This is certainly dramatic, but it also can emphasize any texture on the subject's skin. A diffused light source may help, as will subtle tweaks to the subject's face or the light's position. It also can be defeated with fill light, but too much fill flattens the scene and changes the key. Ultimately, it's simply a technique that may not work for every subject.
You can use Topaz Black & White Effects 2 to emulate old processes like cyanotypes or van dyke brown. You can use Alien Skin Exposure X2 for a range of film-like effects. Yet another option for Mac users is Macphun Tonality.
As long as you're thinking about placing sources, look to the classical lighting patterns as a guide. When it comes to low-key portraits, the butterfly/Paramount pattern works very well, and loop and split lighting also do a fine job here. But it's Rembrandt lighting that really excels in short-lighting, low-key situations. Watch for a diamond of light spilling onto the subject's otherwise shadowed cheek, and you'll know you're on your way to beautiful, dramatic lighting.
Receive a FREE SAMPLE of our Portrait Photography Ebook Subscribe Guaranteed for 2 full months Pay by PayPal or Credit Card Instant Digital Download GET DAILY free tips, news and reviews via our RSS Feed Receive a FREE SAMPLE of our Portrait Photography Ebook Subscribe Guaranteed for 2 full months Pay by PayPal or Credit Card Instant Digital Download GET DAILY free tips, news and reviews via our RSS Feed Receive a FREE SAMPLE of our Portrait Photography Ebook Subscribe Guaranteed for 2 full months Pay by PayPal or Credit Card Instant Digital Download GET DAILY free tips, news and reviews via our RSS Feed Sign up to the free DPS PHOTOGRAPHY COURSE Subscribe Guaranteed for 2 full months Pay by PayPal or Credit Card Instant Digital Download GET DAILY free tips, news and reviews via our RSS Feed Sign up to the free DPS PHOTOGRAPHY COURSE Subscribe Guaranteed for 2 full months Pay by PayPal or Credit Card Instant Digital Download GET DAILY free tips, news and reviews via our RSS Feed Sign up to the free DPS PHOTOGRAPHY COURSE Subscribe Guaranteed for 2 full months Pay by PayPal or Credit Card Instant Digital Download GET DAILY free tips, news and reviews via our RSS Feed
Increasing Clarity brings out more texture in the image. The problem with portraits is that too much Clarity can make skin tones look overly textured. This is more of an issue with portraits of women, who will often expect you to use some kind of skin smoothing to make them look beautiful. You have far more freedom when developing portraits of men because you can use Clarity to bring out the texture.
Sign up to the weekly DPS NEWSLETTER Subscribe All our best articles for the week Fun photographic challenges Special offers and discounts Your email is safe with us. We won't share it with anyone
As with every kind of portraiture, it's the combination of quality lighting and just the right amount of retouching that make an image work. With low-key lighting, the effect can be as classic and timeless, or as hip and cutting edge, as you want it to be. Either way, these lighting and editing techniques go a long way to creating successful low-key portraits.
William Sawalich is a commercial photographer, an educator and a contributing editor for Digital Photo Pro, Digital Photo and Outdoor Photographer. He has written hundreds of equipment reviews, how-to articles and profiles of world-class photographers. Visit his website at sawalich.com.
With a few simple adjustments in Lightroom, it's possible to boost the effects of your low-key lighting setup.
If your goal is lots of darkness and minimal light, it can also be helpful to ensure your subject is wearing dark clothing, as well. A light-colored outfit will distract from the place in the frame where you want the eye to go: the few pixels that are brightly illuminated, often the face. I use a black cotton or velvet cloth as a drape to camouflage bright clothing and make it easier to achieve a truly low-key scene.
Once you have your RAW files in the computer (you do shoot RAW, don't you? It's particularly helpful when working with low-key image files because of the retouching latitude), simple Lightroom adjustments can really refine your images. For an image that is very dark and contrasty, the Shadows and Blacks sliders will slightly bring up those values, while dragging down the Highlights and Whites sliders in the Develop module will keep the very brightest pixels in the scene in check. With Lightroom's Adjustment brush, these edits easily can be applied selectively, like dodging and burning.
In this recent article by dPS author Yacine you get some tips from his perspective and style: How to Create Good Black and White Portraits. Here are 5 more tips for you to continue learning. Once you understand the following five key concepts and you'll be well on your way to creating beautiful monochrome portraits.
Portrait photography is a genre where black and white images can really shine. Like any technique, there are considerations that you should regard that can help to make sure your images have the most impact.
In monochrome mode, a digital SLR displays your photos in black and white when you view them on the camera's LCD screen. This will help you see whether the composition is working in black and white, and how the colors in the scene translate to gray tones.
For example, you can use Silver Efex Pro 2 (a great plug-in to start with because it's now free as part of the Nik Collection) to add a frame, emulate film or the look of a portrait taken with a 5×4 camera.
Smart photographers know that a single light source can deliver unbelievably beautiful illumination. (Don't believe me? Watch a sunset.) By moving a single light source far from the subject, the illumination gets flat and less dramatic. Moving that source close to the subject, however, allows the faster falloff from highlight to shadow to make for more drama. This approach also helps to create the darkness in the background that sets the mood and isolates the highlights against a canvas of dark pixels. With a subject far from the background and the key light very close to the subject, the background is bound to go dark.
The most important part of the majority of portraits are the eyes. They are usually the focal point that the rest of your image is built around. This is especially true with black and white. With the omission of color, a black and white image often breaks down into graphic forms and shapes. Eyes are shapes that everyone recognizes and they draw immediate focus from your viewers. Make sure that your subject's eyes are well lit, and focus is critical.
This portrait captures a moment of contact between the model and her horse. The expression came near the end of the shoot, after a conversation about her horses.
But while you are doing so, pay attention to her expressions. What subjects make her eyes light up with enthusiasm? How does her expression change when you talk about different topics? What unconscious gestures does she make while talking about things she likes? Pay attention and try to capture those intimate moments that reveal character.
I've already mentioned keeping the light close, but where exactly should it be? I find one of the most effective placements of a key light in a low-key portrait is to create short lighting, where the side of the face that primarily faces the camera is in shadow and only the smaller side of the face—or even just a sliver—is illuminated. Better still, consider backlighting for a rim effect to create separation between subject and background.
Black and white tests your ability as a photographer. You can no longer rely on color to carry the photo if the composition is not as strong as it could be. The two most important elements of a black and white portrait are tonal contrast and texture.
If you have trouble imagining how an image may look in black and white, try setting your camera to a monochrome setting. While it isn't recommended to do this for a final image, as long as you shoot in RAW file format, then all of your image's color data will still be present in the file, and Lightroom and Adobe Camera Raw will reset the photo back to color once it's imported. Doing this will allow you to have an idea of how an image will work in black and white, while still providing the highest amount of versatility in post-production.
Certain subjects scream out to be shot in black and white. Other subjects may not be so obvious. Bright, punchy colors obviously make for vivid color photos, but by removing the color element you can completely change how a subject or scene is perceived. When you want to ensure your viewer is focused on a particular element, color as a graphic element, can become a distraction. Try removing it.
This also works exceptionally well with a profile pose. To create this rim, position a specular light source directly behind the subject, aiming toward the camera, but ensuring that the subject's body casts a shadow on the lens. If you'd like the light to wrap around a bit and provide more illumination on the subject's cheek, simply move the light incrementally from behind the subject to the side. These subtle key adjustments, or subtle moveme nts of the subject's head position, make all the difference.
This portrait uses tonal contrast by placing a model with fair skin against a dark background.
Here is an exercise you can do with your portrait subjects to get a mixture of great expressions. Prepare a list of words or phrases and ask them to react to how they feel to each one. The words you choose can be simple descriptors of emotion like: love, sad, joy, angry and melancholy. For more diverse expressions try more abstract words, or funny ones like: cheeseburger, politics, Teletubbies or Hulk smash. As a bonus, this sometimes works extremely well to lighten the mood when you have a subject who's tense or nervous during a sitting.
I find that a very subtle fill from a reflector or very low-powered strobe positioned close to the lens works wonders to add a hint of detail to shadows. This might be a garment or a cheek or even a subject's hair. Because too much pure black shadow can be overbearing, a little bit of fill can be a big help.
5 Simple Ways to Create Expressive Photos in Black and White Tips for Black and White Wildlife Photography Read more from our Tips & Tutorials category
Keeping your approach to composition and lighting simple gives you time to talk to and build rapport with your model. This is very important because ultimately it matters little if your composition and lighting are brilliant but your model seems bored or disinterested. It helps if you are genuinely interested in your model's life. Ask her questions about what she does, what her hobbies are, and so on. Once you get going you will find interesting things to talk about.
If you enjoyed this article and would like to learn more about processing black and white photos please check out my ebook Mastering Lightroom: Book Three – Black & White.
Landscape Photography Tips Portrait Photography Tips Photo Composition Tips Beginner Photography Tips Photo Post Processing Tips Get Started with Cameras and Gear
Finally, if you try black and white and you like it: welcome to the addiction!
Don't be afraid to take the time to move the light subtly in and out of frame, forward and back, up and down, until the effect is just right. As a world-class portrait photographer once told me, when an image is mostly dark tones, the few light tones really matter even more. So position the key light deliberately to put those highlights exactly where you want them.
Superior Suggestions These superior suggestions are that can assist you look previous all the basic ideas which cover most features of photography. The camera gear, tools and accessories are issues that enable you take higher photographs. The following pointers are there that will help you acquire deeper data , looking at a potential message, expertise or emotion you wish to portray. This text helps the place and when to make use of issues equivalent to micro-contrast. Additionally find out how to effectively use and place the blackest areas of the photograph in relation to the mid-tone grey areas. Your images will benefit immensely.
How To Make an Picture Black and White in Photoshop & Lightroom All cameras, except for the Leica M Monochrom, take images in colour. In order for you a black and white image , then it is advisable convert the colour to a monochrome state. There are a lot of strategies you are able to do this, however only a few will provide you with the very best high quality and tonal range. Read our article right here on tips on how to make a picture black and white, with out dropping high quality , detail or other necessary factors.
Put up -Processing Black and White Photography All digital editing software for Mac, PC, smartphone or Android offers a conversion from color to black and white. Unless you took a color photograph , converted it into black and white in a non- harmful method , you cannot revert it. The data is no longer there. There are lots of methods to transform to black and white, some of which are non- destructive ( lets you return to color for those who like) however only some methods the place you can convert the image properly. This text tells you what it`s best to or shouldn't be doing to get essentially the most out of your photographs.
How to Edit Photos on Cellular Now that we have regarded primarily at DSLRs, let's flip our attention towards cellular photography. Taking pictures along with your cell is quick and straightforward , and now changing and processing your images into black and whites isn`t any extra difficult. This text shows you methods to make the most of an app to show these photographs into something actually dramatic.
How one can Manage Photographs in Publish - Manufacturing Working with black and white images is not the same as working with color – both have different focuses and want completely different areas of attention. The Black and White photographs can benefit from colours. Including yellow into the image utilizing a colour mixer can affect the detail within the sky. This brings out characteristics in an otherwise overexposed phase of the image. Also , tweaking of contrasts and highlights can have very dramatic ends in a Black and White photograph.
Issues to Consider When Modifying Black and White Images When it comes down to the enhancing of your images , the hardware can be just as necessary because the software you use. Your pc monitor may have a colour management system that may present your images differently to the colour administration of the printing. Also , where you edit the photographs can also be vital , creating colour casts that change the way you see our images. You may think that black and white pictures will not be affected, however they still use color data within the gray , mid-tone areas of your work. Whatever you will be doing along with your pictures as a closing product, be it a e-book or an exhibition, all of them want completely different treatments.
Find out how to Use Tonal Contrast with Pictures The tonal range in black and white photography is without doubt one of the most essential things to focus on. The vary is mainly the diploma of how shiny or how darkish parts of your image are. The bigger the tonal range , meaning the extra dark and light areas there are, the extra spectacular the image. Although contrast works effectively in each color and black and white, the latter needs it more to stand out and make a lasting impression.
10 Ideas for Utilizing Luminosity Masks in Digital Mixing Luminosity masks are a feature in Photoshop that helps you isolate areas of a high gentle depth within the photograph 's pixels. With these selections , you may choose areas of the photograph and solely work on particular tones, not the entire image. These are nice to help increase the main target and look of a specific object in your frame. This text gives you an incredible rundown, from creating the masks to the finished image.
Learn how to Transition From Taking to Making the Photograph Ansel Adams said , "You don't take a photograph , you make it". This guide takes you thru many ideas. Looking at the basic components , what makes an awesome photograph and how you can make it into a closing , polished print. Focusing on the fundamental ideas and persevering with to identify , isolate and control the elements will help your photographic confidence.
Find out how to Edit Black And White Photographs in Lightroom Lightroom is likely one of the finest tools out there that will help you get the best out of your photography. It`s straightforward and quick to choose -up and can help with your workflow. Presets are an effective way to get very impressive images. They`re also fast and simple to make use of and are created by photographic fanatics or Adobe itself. In this article, you may get an thought of what you ought to be looking at in terms of enhancing your work and the best way to achieve dramatic results.
Processing Photographs in Photoshop In comparison with the benefit of processing photos in Lightroom, Photoshop is a bit more sophisticated and requires more studying time. This text helps you to get the most effective out of your black and white picture by working with colour layers, filters and blending options.
IMAGE COLLECTIONS : Black And White Portrait Lighting Tips