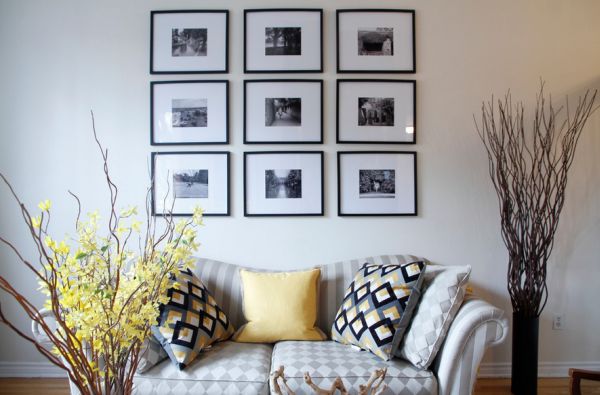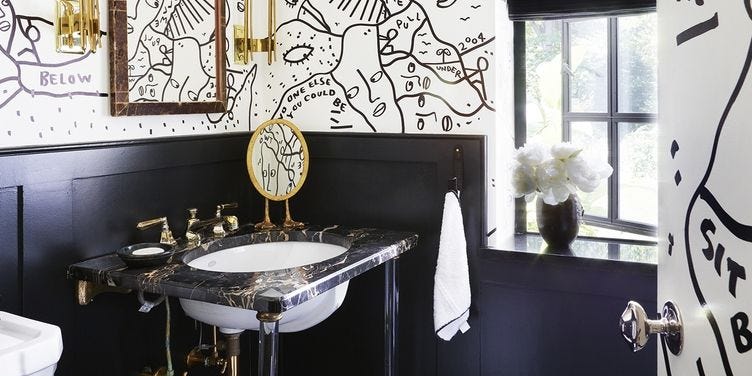 This branding design by Bureau Hofmann goes geometric by pairing a sharp flat black and white color palette with bold, heavy, shape-based letterforms. Heavily geometric branding can very easily look playful and quirky if a vibrant color scheme is used, but by using the simple black and white palette in this example, this design is kept strong, professional and punchy.
The beauty of black and white color schemes is that you can take your design and simply invert the colors and you have a whole new (still functional and effective) design in your hands. This invitation design by Robot Food does just that by having half the invitation as white on black and the other half inverted as black on white, creating a bold contrast between the two designs.
Consider complimenting your super simple color palette with a super simple design. This monochromatic design by Cocorrina takes a walk on the mild side by pairing simple, elegant type with one simple graphic and just one focal image. By aligning these elements to the center of the page and upping the amount of white (or grey) space, this design remains stylish, beautiful, and simple. When in doubt, strip back your design and keep it simple.
Describing a stationary object as having a lot of 'movement' can sound a little odd, but check out this design from Paperjam and note how it uses warped bold lines to create a sense of movement and depth. By overlapping the type with the graphic lines, this piece creates the illusion of the type being sucked into the design, giving the piece as a whole a very immersive effect.
Want to add something unique to your design? Consider framing it in a mysterious or atypical way. This intriguing poster design by Przemek Bizoń takes a bit of a unique approach to framing by only revealing segments of the underlying monochromatic image, which adds interest and a unique touch to the design. Plus, these block-like frames help make aligning elements much easier and faster – two birds, one stone.
Black and white palettes really lend themselves to minimalism, so why not experiment with that? This design by Márton Jancsó channels minimalism by using one photographic/typographic focal point, very little and very simply set type, and a whole lot of white space. Use minimalism to help you redirect focus to your design's most important focal point.
Want to convey a particular emotion through your design without reaching for a vivid color? Have a go at using expressive type. This design by Sam Wood uses dramatic, hand painted type and a complementary lively and evocative image to channel excitement and drama. So, instead of using bold colors to communicate your message, try to use or create visual elements that pinpoint it in a unique way.
What fun is design if you can't break the rules every now and then? This monochromatic design by Mash Creative bends a few traditional typographical rules by running the type off of the page at various points, and not aligning the entire title to one point. But, the effect of this is a really stunning, eye-catching and engaging poster.
Black and white color schemes are already pretty bold, so consider complementing that with an equally as bold design. This branding set by Studio—JQ and Matt Wilson uses scale to help the brand mark pack a punch and act as the main visual focal point.
This design by Metric72 brings a whole lot of drama to the table. This poster manages to pack a real punch by using a perfect combo of a striking black and white palette, a powerfully constructed image, bold leading lines, and an atypical diagonal alignment in place of the typical horizontal/vertical alignment.
This design by Jean-Michel Verbeeck is very simple, right from the color palette down to the composition which only consists of title type, body copy, an image and a frame. The simple addition of the frame to this design not only draws attention into the content, but highlights the stark difference between the main two tones.
Why settle for just one geometric pattern when you can mix, match, and combine a few of them to create a striking effect. This poster design by Project 5 does just that by mish-mashing a handful of sharp black and white geometric patterns within a bold graphic. Monochromatic color schemes lend themselves to a lot of flexibility, so have a go at making the most of that flexibility by mixing and matching your elements.
Over to You – Get Started With Your Own Black and White Palettes!
34. Mix and Match Geometric Shapes Shutterfly via The Tomkat Studio
Type in its most basic format is usually flat and linear, so why not spice it up by adding a little texture and effect to it like this poster by Ronan Kelly does. By using overlaid radial lines, shadowy edges, and warped letters, this design turns the type from flat and lifeless to dramatic and evocative.
As designer Chloe Galea notes, this striking branding set "(Takes) inspiration from optical illusionary art, and the idea of makeup as a way of creating illusions, the packaging for the Classic Collection uses a series of monotone patterns to create a striking collection, bold enough to stand out from competition".
Like bread and butter, monochromatic palettes and letterpressing effects just naturally fit together. Don't believe me? Check out this branding kit by Anastasia Yakovleva that uses a sharp letterpressing effect to bring depth and tactility to the bold black and white design.
Black and white can seem like a very inflexible palette, but believe me when I say, it's actually quite the opposite. In fact, black and white is incredible versatile, easy to use, and effective as anything!
This 1993 poster by Armin Hofmann amps up the image contrast to bring out the lighter tones of the image, which helps to highlight the shapes and curves of the image. These highlighted curves are also contrasted with a sharp graphic that mimics the shape of the photograph and helps to both sharpen the image up and add a new layer of meaning.
A black and white palette is a classic for a reason, you can work it to become just about anything you want it to be – classic, sharp, modern, or traditional. All it takes is the right application, the right intent, and you're ready to go.
So, next time you're sitting down and getting ready to design a poster, invitation, or brand kit, just take time to consider cutting your color palette right down to just black and white. It might be a bit of a challenge at first, but trust that the end result can really pack a punch.
Negative space refers to the space around a design, and the shape that space makes. This design by Mieczysław Wasilewski uses negative space to create a strong graphic that visualizes the titular concept. Consider using your bold black and white palette to create a strong, clever negative-space inspired design that packs a punch.
A lot of optical illusions play on black and white color schemes, so take a leaf from Chloe Galea's book and channel that into your design.
28. Create Clever Negative Space Illustrations via Moodboard
Textures are one of the most ubiquitous design elements around, and you can easily (and effectively) adjust them to fit within your new monochromatic palette. This design by Axel Lokrantz Månson uses a monochromatic marbling texture to add a simple, unique effect to what is otherwise an extremely simple design.
Why have just one business card design when you can have four? This design by Shutterfly via The Tomkat Studio plays up on the flexibility of black and white palettes by creating four different geometric pattern-based card designs. Consider mixing and matching your monochromatic patterns and designs to keep things fresh and new!
If there's one thing all creative industries can agree on, it's that black and white is a timeless duo.
Want to build a clean, sophisticated website? Consider going back to basics and experimenting with a monochromatic design just as Adam Widmanski has done in this example. By limiting your interface and image color scheme to black and white and pairing it with a minimal, well-aligned layout, you can create a more clean, cohesive and united design.
This movie poster by Kyle Kim blurs the line between illustrations and type by constructing a striking title out of sharp black bird silhouettes, which when contrasted against the white background form the title type. The use of clustered elements and the radial composition draws attention in toward the title and then out toward the exterior information, making this monochromatic design not only cool and clever, but functional too.
05. Naturally Combine Imagery and Type Atelier Martino & Jaña
Quick note: If you're using busy monochromatic lines like this example, be sure to balance it out with blocks of white or black (again, as this example does) to prevent the design from becoming overwhelming.
Lines are incredibly versatile graphic elements, and when paired with a stark black and white palette, there's no stopping them from being really striking. This design by Demian Conrad makes the most of this device by using a mix of straight and curvy lines to frame and draw attention toward the title type.
This design by Themes channels the op-art movement by creating a striking and engrossing illusion that requires you to literally take a step back to appreciate its true form. This design plays on the contrast between black and white to create this 'hidden' illustration, proving that not only is black and white a good looking duo, but a highly flexible one too!
Want your design to really pack a punch? Scale it up! This editorial spread design by Purpose does just that by scaling up its typographical elements to create bold and daring spread designs. Plus, by scaling up (mostly) sans serif typefaces, this piece creates new shapes for other elements to align against, making this bold black and white layout very neat and organized too.
Type is something that is always effective when executed in black and white, so why not scale it up and make it a focal point? This design by Pedro Arbeláez does just that by mish-mashing scaled-up and scaled-down type, creating a very effective design that blurs the line between body copy and titular type, transforming the type into the main visual element of this design.
Taking inspiration from anywhere and everywhere is often the best way to unlock a simple and clever idea. For example, this poster design via Fumettologicamente for an architecture conference takes inspiration from blueprint design by using fine lines to create a structure around the focal graphic element. This simple concept is complemented by a simple design and palette to make it a smart and powerful piece.
This angular poster by LaGasulla reminds us that type doesn't have to sit on a flat plane that extends from the left of the page to the right. In fact, as this piece shows us, sometimes by adjusting the perspective of your elements, you can create an intriguing appearance of dimension and depth.
For more letterpressing inspiration, be sure to check out these 50 stunning letterpressed business cards to help get you inspired.
The Design School's ultimate guide to designing with backgrounds [with ready-to-use templates]
But, despite this, for lots of designers, stripping your design's palette back to just black and white might not seem like a viable option, or it might not even have crossed your mind.
Contrast doesn't just refer to light vs. dark, but also thick vs. thin, big vs. small, etc. so, consider experimenting with more than one form of contrast when building your design, just as Naranjo—Etxeberria does in this beautiful example. By contrasting not only light and dark tones, but also thick and thin lines within the graphics and type, this piece effectively amps up the contrast in more ways than one.
Have you ever encountered a black and white design that captured your attention? Or do you have some tips up your sleeve about mastering the monochrome? Leave your thoughts in the comments below!
As the designers note, "Traditional russian way of packaging is newspaper. So why not to follow traditions? We have collected in our newspaper some funny stories, statements and anecdotes for reading with a glass of beer".
27. Take Inspiration From Newspapers Manitou Design, Shamil Karim and Kristina Udovichenko
Taking inspiration from traditional or vintage designs is always great, but how can we make our design appear modern and stylish while maintain that old world charm? Well, this website design for The Ordinary manages to do that by combining elegant vintage-inspired type, photography, and textures with a sleek monochromatic palette and clean navigable layout, keeping it charming and traditional, and not out of touch or outdated.
Contrasting organic textures with sharper graphics is a great way to keep your design modern and sharp, just as this design by Sara Westermann is kept. By creating a frame for the focal image from a mix of a handpainted texture and a sharp, angular graphic, this design has the personal, organic feel of a painted texture, but the modern and sleek appearance of a sharp graphic.
We've had a look at a few examples of how effective black and white lines can be, and this example by Mário Rodrigues is no exception. In this case, the use of bold stripes acts as a focal point of the design as it perfectly complements the bold, line-based logo, making it a natural choice for this branding kit.
Consider pairing your sharp monochromatic color scheme with some bold lines to create a unique and stylized effect. This beautifully balanced piece by MUTI does just that with its symmetrical wire-like design, built up of bold white lines that contrast sharply against the black background, creating a stylish and evenly balanced illustration, jam packed full of symbols, illustrations, and a whole lot of character.
A great way to let your type and imagery interact in an interesting way is to let them layer, just as this beautiful monochromatic example by Jordan Hu does. By layering letters, words, and little chunks of type over the image in a way that highlights the image's shapes and dimensions, this piece creates a delicate and natural effect where no one element overpowers the next.
Designing with black and white: 50 striking examples for your inspiration
This design by My Little Fabric pairs an elegant and detailed illustration with a crisp white transparent frame and elegant type to create a super simple, classic design. The contrast of the sharp graphic against the traditional serifs and illustrations keeps this design fresh and modern, while still retaining that vintage-inspired charm.
Type is how we communicate ideas and thoughts, so make sure people pay attention to your type by embellishing it with a sharp black and white palette and stunning typographic composition, just as this design by Friends of Type has done. This beautiful (entirely hand crafted!) piece uses a mishmash of shapes, typographical styles and bold and thin lines to bring this Bueller quote to life.
This beautiful branding kit by Demian Conrad uses a stunning black and white palette to give an organic marbling concept a sharp and professional execution. By creating organic, flowing, marble-like shapes and executing them in a sharp monochrome, this design remains sharp and professional, but with an organic, softer touch, creating an all-round memorable visual for the brand.
A great way to highlight the stark contrast between your black and white palette is to create a striking negative space inspired graphic like the one in this poster via Moodboard. By creating this negative space, ambigram-like design (meaning it can be 'read' upside down or rightside up) the contrast between the two colors is made much more apparent and sharp. Have a play with negative space, and if you're a bit more daring, ambigrams, and see what clever things you can unlock!
40. Detailed Illustrations vs. Sharp Graphics My Little Fabric
They say black will never go out of style, so your secret weapon when it comes to creating a timeless and stylish design is to go monochromatic. This website design by Creative Riot does just that by using a light monochromatic palette, clean images, wide margins, and super simple type to stay fresh and very stylish.
41. Don't Forget the White (or Black) Space Philippe Apeloig
This poster by Max Kuwertz foregoes the typical notions of cleanly set, linear poster type by instead crumpling and warping the bold type by using perspective to replicate a crumpled up piece of paper. This simple addition of the crumpled effect takes this design from ordinary and plain to unique, eye-catching, tangible, and memorable.
If you're looking for a way to add a lot of cinematic drama to your design, check out this movie poster by Kate Marie Koyama Design. By pairing monochromatic photographs, bold, stacked sans serif type, and pronounced stripe cut outs, this design channels the dark tones and venetian blind shadows of film noir to create a mysterious, engrossing design.
White space is a magical tool in the world of design, but it's important to remember that it doesn't always have to be white. In the case of this design by Philippe Apeloig, the white space is black, but it acts just like any other piece white space out there would – it frames, declutters, simplifies and lets the design 'breathe', putting the focus back on the important elements, like that clever dimensional typographical title.
Got a lot of information to include on one page? Consider breaking that info up into separate blocks by using sharp, fine lines, just as this example by Amanda Jane Jones does. This piece divides the elegant monochromatic type and imagery into a modular grid which creates a strong structure and very neat composition.
Another way to add texture to your design is by breaking out the watercolors and adding some soft watercolor effects to your elements, just as this save the date card by A Fabulous Fete does. By pairing this with the elegant, effortless script type, the clean white space and the simple body copy, this soft texturing can disrupt that clean, stark effect, and add a little organic touch.
When paired with a black and white palette, geometric patterns can be really striking, as you can see in this design by Demian Conrad. A really cool thing about this piece is how it explores the makeup of various patterns, and how by overlapping some of them, new patterns are formed. Have a play with layering and mixing up your pattern designs and see what you can come up with!
We tend to think of patterns as colorful, geometric things, but check out this monochromatic design by Pharaoh that instead uses elegant and detailed illustrations to form a branded pattern. The combination of mysterious, beautifully drawn elements and the sharp black and white palette make this branding kit effective and striking.
15 reasons why a grid based approach will improve your designs
What's black and white and red all over? This newspaper-inspired branding package by Manitou Design, Shamil Karim and Kristina Udovichenko. This newspaper inspired design uses type, illustrated imagery and a very editorial black and white color scheme to channel Russian traditions.
In this list we'll look at 50 stunning monochromatic designs and hopefully you'll quickly begin to notice how flexible this small palette really is, and just how easy it is for you to kickstart your own black and white designs. So, let's get started.
This poster design by Atelier Martino & Jaña combines type and imagery in a fluid, natural way, by working with the curves and contours of the image. By using custom hand type and elegant monochromatic watercolor effects to complement the focal image, this piece flows beautifully from one element into the next, creating a classy and sophisticated design.
Who said frames have to always be square? And on that note, who said frames have to include the whole image? This design by Bili Cardona disregards these notions of frames by instead framing his focal image within a pattern of geometric shapes. These sharp shapes contrast neatly against the monochromatic image and bring a unique, modern flair to the design.
When it comes to branding, we often assume that a brand has to have a signature color, but as this branding kit by Miklós Kiss proves, a monochromatic palette can be just as effective as any signature color. By using sharp lines, an intricate logotype and bold graphic elements, this branding kit stays professional and clean while still effectively memorable.
his design by Helmo creates an engrossing effect by slicing and dicing each image and piecing them back together. The use of the sophisticated monochrome palette keeps this experimental design from becoming overwhelming, and the geometric shapes within the split images helps align the type and graphic elements in a neat, presentable way.
Advanced Tips These advanced tips are that can assist you look previous all the essential ideas which cowl most features of photography. The camera gear, gear and accessories are things that enable you take better photographs. The following tips are there to help you gain deeper knowledge , looking at a doable message, expertise or emotion you want to portray. This article helps the place and when to make use of things similar to micro-contrast. Additionally the way to effectively use and place the blackest areas of the photograph in relation to the mid-tone gray areas. Your pictures will profit immensely.
How To Make an Picture Black and White in Photoshop & Lightroom All cameras, except for the Leica M Monochrom, take pictures in colour. If you need a black and white picture , then it`s worthwhile to convert the color to a monochrome state. There are a lot of strategies you are able to do this, but just a few provides you with the best possible high quality and tonal range. Read our article here on learn how to make an image black and white, with out dropping quality , element or other vital factors.
Put up -Processing Black and White Photography All digital modifying software for Mac, PC, smartphone or Android offers a conversion from colour to black and white. Until you took a color photograph , converted it into black and white in a non- destructive manner , you can`t revert it. The knowledge is no longer there. There are various ways to convert to black and white, a few of which are non- destructive ( allows you to return to colour if you like) however only some methods the place you may convert the picture properly. This article tells you what you must or shouldn't be doing to get the most out of your photographs.
Tips on how to Edit Images on Mobile Now that we have seemed primarily at DSLRs, let's turn our attention in the direction of cell photography. Capturing with your mobile is fast and easy , and now converting and processing your photographs into black and whites is not any more difficult. This article exhibits you easy methods to make the most of an app to turn those photographs into something actually dramatic.
How you can Manage Pictures in Put up - Manufacturing Working with black and white photos isn`t the identical as working with color – each have different focuses and want completely different areas of attention. The Black and White images can profit from colours. Including yellow into the image using a colour mixer can have an effect on the detail within the sky. This brings out traits in an in any other case overexposed phase of the image. Also , tweaking of contrasts and highlights can have very dramatic results in a Black and White photograph.
Issues to Think about When Enhancing Black and White Photographs When it comes right down to the modifying of your pictures , the hardware will be simply as necessary because the software you use. Your computer monitor will have a color administration system that may present your images differently to the color administration of the printing. Also , where you edit the images can also be important , creating colour casts that change how you see our images. You may assume that black and white photos will not be affected, however they still use color data within the grey , mid-tone areas of your work. Whatever you`ll be doing along with your pictures as a remaining product, be it a e book or an exhibition, all of them need completely different treatments.
How you can Use Tonal Contrast with Pictures The tonal range in black and white photography is one of the most essential things to focus on. The vary is mainly the degree of how shiny or how dark parts of your image are. The bigger the tonal vary , that means the extra darkish and lightweight areas there are, the extra spectacular the image. Though distinction works properly in both colour and black and white, the latter wants it extra to stand out and make an enduring impression.
10 Tips for Using Luminosity Masks in Digital Blending Luminosity masks are a function in Photoshop that helps you isolate areas of a excessive light depth within the photograph 's pixels. With these choices , you possibly can choose areas of the photograph and solely work on specific tones, not the entire image. These are great to help increase the main focus and look of a selected object in your frame. This article offers you a fantastic rundown, from creating the masks to the finished image.
The best way to Transition From Taking to Making the Photograph Ansel Adams said , "You don't take a photograph , you make it". This guide takes you through many ideas. Trying on the primary parts , what makes a fantastic photograph and the right way to make it into a ultimate , polished print. Focusing on the essential ideas and persevering with to identify , isolate and management the elements will help your photographic confidence.
How to Edit Black And White Photographs in Lightroom Lightroom is one of the best instruments out there that can assist you get one of the best out of your photography. It is simple and fast to choose -up and may help with your workflow. Presets are a great way to get very impressive images. They`re also quick and easy to make use of and are created by photographic enthusiasts or Adobe itself. In this article, you may get an concept of what you have to be taking a look at in the case of enhancing your work and how to obtain dramatic results.
Processing Photographs in Photoshop In comparison with the benefit of processing pictures in Lightroom, Photoshop is a little more complicated and requires more studying time. This article helps you to get the most effective out of your black and white image by working with colour layers, filters and blending options.
IMAGE COLLECTIONS : Designing With Black And White 50 Striking Examples For Your Wall Art